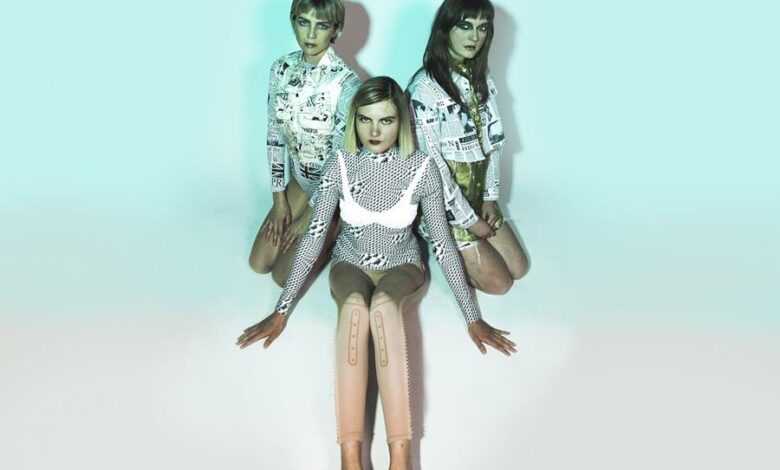 Music
AUTOMATIC send up American corporate culture in new video for "Skyscraper"
New album EXCESS
out June 24 via Stones Throw
L-R: Lola Dompé (drums, vocals), Izzy Glaudini (synths, lead vocals), Halle Saxon-Gaines (bass, vocals) | Photo credit: Dana Trippe | Download hi-res image here
The new video for "Skyscraper" directed by Alex Thurmond casts Automatic as dead-eyed office workers climbing the ladder, in a Severance-style comment on the banal evil of American corporate culture.
On "Skyscraper", Automatic imagines a Patrick Bateman type who can ignore "the miserable people outside" as he luxuriates in his office on the 100th floor "where the sun has a beautiful shine." The video takes direct inspiration from the lyrics. Thurmond explains: "'The pitfalls of capitalism and corporate life can be easy to fall into. American Psycho and Office Space were both points of reference, the glorification of monotonous tasks and success measured by climbing the corporate ladder. Those movies have such an over the top, satirical quality that really matches the tone of the song, and it was fun to play that up."
"Skyscraper" is taken from Excess, Automatic's second album for Stones Throw. The album rides the imaginary edge where the '70s underground met the corporate culture of the '80s – "That fleeting moment when what was once cool quickly turned and became mainstream all for the sake of consumerism." This becomes the starting point for an exploration into the consequences of such excess – namely, the fact that Gen Z will inherit the world at the eleventh hour before they're even old enough to drink. Combining its urgent message with catchy pop hooks and the L.A. trio's trademark motorik and icy atmospheres, Excess is tight and punchy: danceable music for the end of days.
Fresh from their shows with Tame Impala and performances at Primavera Sound, Best Kept Secret and Wide Awake, Automatic will play several more dates in Europe before returning to L.A. to play a special Excess release show at The Regent. The L.A. show will be supported by Los Angeles Community Action Network (LACAN), with Freedom Singers, a collective of musicians from the Skid Row community, opening and their resident visual artist Natosha Smith contributing to stage design. A portion of profits from the show will go directly to LACAN. View all upcoming live performances here.
Automatic – Excess album artwork | Download hi-res image here
Automatic – Excess
Out June 24th on Stones Throw
1. New Beginning
2. On The Edge
3. Skyscraper
4. Realms
5. Venus Hour
6. Automation
7. Teen Beat
8. NRG
9. Lucy
10. Turn Away
Connect with Automatic