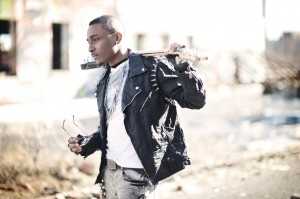 Music
Lukay to Release New Single 'Dance With You'
Lukay is an accomplished singer-songwriter, dancer and producer from Canada who, following his overwhelming success with his previous release, is now set to release 'Dance With You' on November 11th.
From an early age, Lukay's father (also the maestro of the local church choir) made sure Lukay was surrounded by music. At the age of ten he taught himself to play bass guitar and by fourteen he was appointed "Music Director" of his local church band and after not making the school basketball team when he was sixteen, Lukay decided to return to music, his first love.
After finding success as an award winning songwriter, receiving his very own Gold Plaque from EMI Canada for the song 'Yalla Habibi' for fellow Canadian superstar Karl Wolf and collaborating with award winning producers like Will Baker and Dark Child, Lukay decided it was time to write his own music. In 2011 Lukay officially released his first single 'I'm In Love With Music' which gained positive feedback from the Canadian Billboard Charts in their August 2011 Newsletter and by SOCAN P&M magazine in March of 2012. Not only did he catch the attention of the charts and magazines, 'I'm In Love With Music' also caught the attention of top radio stations such as Virgin Radio, The Beat and NRJ Montreal as well as numerous others. In May 2012 Lukay was nominated for three awards in the Montreal Hip-Hop Awards, winning 'Best R&B Artist Anglophone of the Year'. After smashing the stage at Olympia Theatre of Montreal when opening for the Grammy Award winning legends- Boyz II Men show at the Grand Prix weekend in Montreal, Lukay's fan base did nothing but expand as he was greeted with thousands of people singing along with him.
Lukay's bouncing new single 'Dance With You' is a catchy, upbeat song with an infectious chorus. A gentle yet bubbly introduction leads you into the first verse which exhibits Lukay's incredibly strong, versatile vocals while the video exhibits his fluid ability on the dance floor. The single entered the Canadian Billboard Chart Top 40 and peaked at no.16 (now at no.25) on the Billboard Emerging Canadian Artist chart. Most recently, Lukay has been named the Bell Media Radio's Emerging Artist of the month for July. His single is playing on all the top commercial radio stations from coast to coast.
"Lukay, you are a triple threat. A singer, songwriter and dancer and you're great at all of them." – Virgin Radio
Watch the 'Dance With You' music video here: https://www.youtube.com/watch?v=vrmXk3HV5Ro
For more information please contact Poppy [email protected] or phone 01223 844440.