Debut album Tired of Liberty
out today via Speedy Wunderground
Watch the video for "Remains"
Album release shows through the UK this week
UK Headline tour dates through Sept / Oct 2022
The Lounge Society | Photo credit: Andy Little | Download image here
The Lounge Society today release their much-anticipated debut album Tired of Liberty.
Listen to the album here.
The last few months have seen The Lounge Society tease a string of singles from the album, each of which offered further insight into its direction and band's state of mind. Across 'Blood Money', No Driver' and 'Upheaval' we heard a band renowned for their genre-leaping use diverse sounds to explore the corruptive force of power and the lengths the mind can be pushed to.
Their live show has also reached new heights through this summer, earning them support slots with the likes of The Strokes, Wet Leg and Fontaines D.C., and festival appearances at Wide Awake and – next month – End Of The Road.
As the band releases the album in full, a new video directed by Niall Trask (Jamie T, Fat White Family, Nadine Shah) arrives for the song 'Remains', of which the band says:
"Remains is a track that is fuelled by a raw and physical sense of fear. It soundtracks the times when we feel most alone and yet most alive. The loneliest times for many of us are when we're in a crowded room, when anxiety is in all parts of you, boiling your insides.
When it comes through the speakers, Remains is our biggest song. It's designed to kick the doors down. In that way it gives us an outlet when we play it live. Because it takes up every ounce of our being to play it, there's no room left for fear. We hope it can be a release for the listener."
Watch the video for 'Remains' below.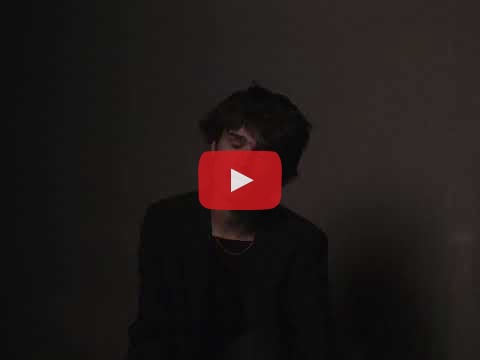 The band heads out on a run of album release shows in the UK across the coming week. See the band at the below venues.
UK Album Release Shows:
24 Aug – The Blue Basement, Third Man Records, London
25 Aug – Pretty Green Store, Manchester
26 Aug – The Golden Lion, Todmorden
27 Aug – Action Records, Preston
28 Aug – Wrecking Ball, Hull
29 Aug – Rough Trade East, London (aftershow @ The Old Blue Last)
30 Aug – Rough Trade, Bristol
31 Aug – Rough Trade, Nottingham
01 Sept – Resident, Brighton
The Lounge Society – Album release shows poster | Download image here
UK headline tour dates begins this Autumn. Full UK & EU headline touring is below.
The Lounge Society 2022 UK & EU headline tour dates
Buy tickets here
24 Sept – Float Along Festival, Sheffield, UK
25 Sept – Bodega, Nottingham, UK
26 Sept – Broadcast, Glasgow, UK
27 Sept – Sneaky Petes, Edinburgh, UK
29 Sept – Brudenell, Leeds, UK
30 Sept – Gorilla, Manchester, UK
02 Oct – Patterns, Brighton, UK
04 Oct – Village Underground, London, UK
06 Oct – Joiners, Southampton, UK
07 Oct – Trades Club, Hebden Bridge, UK
08 Oct – Trades Club, Hebden Bridge, UK (SOLD OUT)
15 Oct – Future Days at The Crossing, Birmingham, UK
16 Oct – Ramsgate Music Hall, Ramsgate, UK
18 Oct – Point Ephemere with MUSH, Paris, FR
19 Oct – Rockschool Barbey, Bordeaux, FR
21 Oct – Le Sonic, Lyon, FR
22 Oct – Deep Inside, Dijon, FR
23 Oct – Le Grillen, Colmar, FR
25 Oct – Buhmann & Sohn, Cologne, DE
26 Oct – Molotow (Skybar), Hamburg, DE
27 Oct – Kantine am Berghain, Berlin, DE
30 Oct – Rotown, Rotterdam, NL
01 Nov – Merlyeyn, Nijmegen, NL
02 Nov – Witloofbar @ Botanique, Brussels, BE
The Lounge Society – Headline UK tour dates poster | Download image here
More about The Lounge Society's debut album Tired of Liberty
With a critically acclaimed debut EP under their belts (Silk For The Starving, 2021) The Lounge Society cemented themselves as a band bound by the ideals of total intra-band collaboration, smartly picking apart the behaviour of those that govern, and never repeating themselves. Singles from the band have been fearless in their variety and unpredictability, landing blows via punk-funk, popping electronica, psychedelic rock, post-punk and garage rock. Theirs is a sound that won't sit still.
Returning for the third time to the studio of Speedy Wunderground's Dan Carey, Hebden Bridge's The Lounge Society are back; this time, with the mindset of crafting a debut album conceived out of desire, raised by collaborative muscle-memory, and kept beating, by the sacred-heart of emotional-spirit.
Recorded over two weeks in November 2021, 'Tired of Liberty' is a stunningly ubiquitous snapshot of instrumental meltdown, and timeless adolescence. Keen to uphold the manipulated elasticity of a recorded event, the majority of the eleven tracks that make up the record (with the exception of 'Generation Game', which saw its beginnings as part of the Speedy Wunderground 7" series, and was subsequently re-recorded), were written either just before, or throughout the duration of those fortnight sessions.
Brimming with anthemic-myriad, this is the real deal. Genuine urgency from a group of young creatives living and breathing their inaugurated prime, with breath-taking, anarchic-proficiency. Whether it's "lies drenched in sarcasm" ('Blood Money'), or, the clattering, riff-screaming irony of 'Remains', The Lounge Society's deep-rooted inversion towards our "culture of anti-freedom"- the ludicrous excuses man makes for the ceasing of mankind, is one which is both culturally-associative, and, counter-culturally embracing.
Whether its personal growth, banded maturity, or a hearty combination of the two, 'Tired of Liberty' is an expertly captured documentation of four young-adults, at the baptism of their cultural-ignition. After all, you only get one opportunity at a debut record. "Anything that follows, is just an evolution from that." – The Lounge Society.
The Lounge Society – Tired Of Liberty album artwork | Download image here
The Lounge Society – Tired Of Liberty album track listing
1. People Are Scary
2. Blood Money
3. No Driver
4. Beneath The Screen
5. North Is Your Heart
6. Last Breath
7. Remains
8. Boredom Is A Drug
9. It's Just A Ride
10. Upheaval
11. Generation Game
The Lounge Society are: Cameron Davey (vocals, bass), Herbie May (guitar), Hani Paskin-Hussain (guitar) and Archie Dewis (drums).
For press: Download the band's latest biography here.