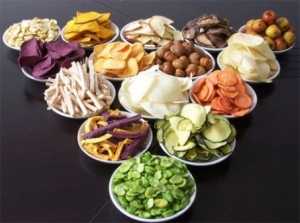 Food
Tricks to Make Low-Calorie Foods Taste Great
Vegetable soup
Vegetable soup is one of the tastiest and most satisfying dishes you can eat.  The fiber content will make you feel full and improve your digestion.
It doesn't matter if you've never cooked anything before in your life, just Google 'simple recipes for students' and you'll get all the guidance you need to make this fabulous, healthy low-calorie food.
Mushrooms
If you get into the habit of adding a generous quantity of canned or fresh mushrooms to your meals, you will be adding more food to chew without adding more than a very few calories.
Chicken stew
Most people know that skinless chicken is a good source of low calorie protein, but it is also seen as a rather uninteresting food.  But chicken is such a success when combined with lots of chunky root vegetables, celery and a hint of garlic to produce a very tasty stew or casserole.
Again, this is an incredibly simple meal to cook at home and there's no need at all to add any fancy ingredients, such as you see in Cookery Books.
Green vegetables
Some people aren't very enthusiastic about including green vegetables in their weight-loss diet at lunch or dinner.   However, it all depends on how they are cooked and presented.
Most people find fried onions very appetizing, so why not mix in a generous helping of mouth-watering fried onions with green vegetables?
Fried in a little olive oil or low calorie oil, you'll be surprised at how much flavor this can add to the low-calorie vegetables slimmers should be eating.
And if you can't face a permanent low-calorie diet to maintain your weight loss – you don't have to!
Meet Thermogenic tea – your new best friend!
Burns fat + cuts appetite + blocks the growth of new fat-cells
You can drop a lot of weight quickly and safely, by drinking the thermogenic or fat-burning teas.
They speed up your metabolism naturally to burn up calories without the need for exercise or calorie-cutting and once the weight is off – it stays off!
Safe speedy slimming + post-diet weight control
The Camellia Sinensis plant produces four weight-busting teas – White tea, Oolong Tea, Pu-erh tea and Green tea and they all contain high quantities of catechin.
The unique catechins present in each of the teas have been recognized by international obesity treatment studies as a realistic method of safe and speedy weight-loss.
Appetite suppressant
Each of the teas is an efficient fat-burner and they also have extra properties, which have been isolated and identified through various obesity studies.
For instance:
Green tea – proven to break down and burn off excess fat stores
Oolong tea – proven to suppress appetite and stop hunger pangs
Pu-erh tea – proven to drain excess fluid + make stomach feel full longer
White tea – PROVEN TO RESTRICT THE FORMATION OF NEW FAT CELLS
You can get slim and stay that way for life!
Synergy increases potency x10
Blended together, the scientific process of synergy occurs and this acts to increase the obesity-busting action ten-fold!
This means you can forget low-calorie dieting and continue eating all your favorite foods and that's the best trick of all!
Get smart and get slim!
So – be decisive and lose that extra weight now, because there's never been an easier way to slim than by drinking delicious, fat-burning, appetite-suppressing, new-fat-restricting tea!
Mou tea is a convenient and delicious synergetic blend of the finest White, Green, Oolong and Pu-erh teas – aromatic and smooth tasting with a lingering hint of honey.