Music
'Uniqueness should be applauded.' Sasha McVeigh chats to Unfashionable Male
Hi Sasha, For those not in the know, can you just introduce your self.
I'm Sasha McVeigh and I'm a British country singer/songwriter.
We hear you have been busy on both sides of the big pond. Which has been the biggest influence on your music?
I think the US has probably had the biggest influence because that's where I started off. Also, those are the artists I've been listening to my whole life. But it feels really cool to have been rounded by both the US and UK.
Your style is British Country – how does that differ from Country?
I don't know whether I'm British country or not. I guess maybe I am because I am British and of course I don't really sing about trucks or tailgating because those aren't things we have here – unless of course I was writing about my experiences in the US. I think my music certainly fits into the Contemporary Country genre but I like to think it's a bit different to what's out there. Every artist is unique and I've definitely been influenced by lots of genres to create what is my sound.
You are the latest in a wave of acts rising through the ranks of British Country. What makes you stand out from the crowd…
One of the things that makes me different is I started off in the US, I made my mark there first which I suppose is a bit back to front but it was the right thing to do at that time. I went to Nashville for the first time, for my music, in July 2012 after I finished at Sixth Form College, it's just rolled from there, I can't believe it. Like I said, I think my sound is very different to the other British country artists out there, I just always try to be me, uniqueness is something that should be applauded I think and I really hope my uniqueness comes through with the album.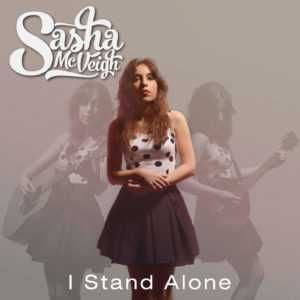 On that note, your debut album is called 'I Stand Alone' – tell us more…
You have no idea how excited I am about this album, it's something I've wanted to do for so long and it feels incredible to know it's all finished and that it's now up for pre-order. There are 10 tracks on the album, plus two bonus tracks, and I wrote 7 of those tracks by myself and then the other 3 were songs I co-wrote with other people. The album is definitely like one, big, rhyming diary because it chronicles the stories of my life so far. I decided to name the album 'I Stand Alone' because during the recording process and even before that, so many people were telling me how I needed to make the album sound, how I should dress to market the album etc and I think life can be like that, people telling you how to be and how to act and I really wanted to stand my ground with this album and stay true to who I am. Like I said, uniqueness should be applauded and I hope when people listen to these songs, if they're feeling afraid to be who they are, that it'll make them want to shout from the rooftops "I stand alone!"

What song are you most excited for people to hear?
I know the fans will be excited to hear 'Mr Brown Eyes' because it's been a fan favourite since I performed it for the first time in Vegas last year. I'm excited for people to hear a song called "You Only Live Once" because it means a huge amount to me. I wrote it with AJ Masters and it was a song I'd been working on for months but I just couldn't finish it. It was inspired by something my Mum said, she said "life isn't a practice run" and people should do the things they want to do and not put them off because you never know how long you have. I got into the room with AJ at SESAC in Nashville and he loved the concept, we finished it within an hour, it was amazing. Sadly, AJ passed away in January the day after the flew back to Nashville to finish the recording, he was supposed to play lead acoustic guitar on the track but never got to do it, so I got one of his friends to use his guitar and record the part at his favourite studio, as a tribute to AJ. I also included our demo/work tape as a bonus track on the album which was recorded on an iPhone just after we wrote the song, you can hear AJ talking and playing. That songs means a great deal to me, AJ was an amazing songwriter, wonderful friend and truly my songwriting soulmate…I miss him every day. There will also be a few surprises on the album too, with songs like 'Hot Mess' that people won't expect from me!
You are touring with Sonia Leigh ahead of the album release, how did that come together?
It's a funny story actually. We had been talking on Twitter for a while because we have a mutual friend in Atlanta. But whenever I'd be in Nashville, Sonia would be in the UK and vice versa, then finally in January it clicked and we were able to meet up. That's when we found out we were both performing at C2C, on the same day and same stage. I had already been planning on doing a tour and we got on so well that it made sense to do it together, especially with everything Sonia is doing over here with her single, 'When We Are Alone'. I can't wait, it's going to be a great adventure!
Have the pair of you ever considered duetting?
We were both talking about that and we really wanted to do something on the tour but with Sonia being back in the US prior to the tour, there just hasn't been any time to practise anything. I'm sure we'll come up with something while we're on the road though.
What is your favourite Country duet?
"After The Fire Is Gone" by Conway Twitty and Loretta Lynn, and also "Whiskey Lullaby" by Brad Paisley and Alison Krauss.
Who would be your dream duet partner?
Can I say four different people from different genres? Does that count?
I would love to duet with Elton John, I actually met him once and told him that and he said he was really touched. I was 14 at the time and I think he thought it was interesting a 14 year old would want to duet with him rather than some teenage-boy band. I just adore his music and he is so charismatic. It'd be incredible to write with him too!
It's a dream of mine to duet with Keith Urban on 'We Were Us'. I think he's a phenomenal musician and artist. He's definitely someone I look up to because he's Australian and has managed to make a mark, a huge mark, in the US country music market. That's a massive achievement and very inspiring for someone like me who's British and doing country music.
Lady Gaga is on my list too, she has an incredible voice. I've never forgotten watching her 'Monster Ball Tour Live In Madison Square Garden' on the TV, she didn't stop for a second, it was ridiculously awesome. Plus everyone says we look very similar, I can't count the number of times I've been mistaken for her or told I look just like her. It would be hilarious to meet her and we'd both be looking at each other like "Woah…weird!"
Now, this is a bit of a strange one but links back to my love for musicals and is most definitely on my bucket list…I want to duet with Alan Menken. I'm also a huge Disney fan and he's composed the music to all my favourite Disney movies. He just has this way of composing, it's flawless. His song "Farewell" from the Pocahontas soundtrack (it plays over the final scene in the movie) is the most beautiful piece of music, it gives me chills and goosebumps every time. If I ever got to sing one of his songs, with him playing the piano or conducting the orchestra…there aren't words.
Lastly, if you could achieve one thing before the end of 2015, what would it be?
I would love to have a single out on the radio in the US and the UK, that would be incredible. Stranger things have happened so far, so it's not entirely impossible. We'll see…
Sasha McVeigh tour dates can be found on her official website.