Music
VALERAS RETURN WITH NEW SINGLE "RITA"
SHARE NEW VIDEO - WATCH HERE
"Behold VALERAS' infectious arsenal of high-octane rock tunes that glisten with pop magic"
– Gigwise
"We can already see that this band has a lot to offer the world and we haven't seen the half of yet"
– MTV
"Watch this lot because they're going all the way"
– Spindle Magazine
Reading duo VALERAS have been busy during the pandemic writing, recording and working towards their debut album. With a new EP planned for late summer, the band return with a bang to preview this new material with their hook-heavy new single, "Rita".
"Rita" finds the band combining the frenetic indie-rock sensibilities that have seen them earn early plaudits across press and radio, with alt-pop inflected songwriting that is simultaneously more personal, energetic, and melodically encapsulating than anything they have released to-date.
Speaking about the themes behind the new single and video, vocalist and co-songwriter Rose Yagmur, says:
"'Rita' is a reflection of an experience a lot of people including us have gone through. It is a story about a hard-working woman named Rita who defies the negative surroundings that try to stop her from doing what she is truly passionate about."
WATCH THE VIDEO FOR "RITA" HERE: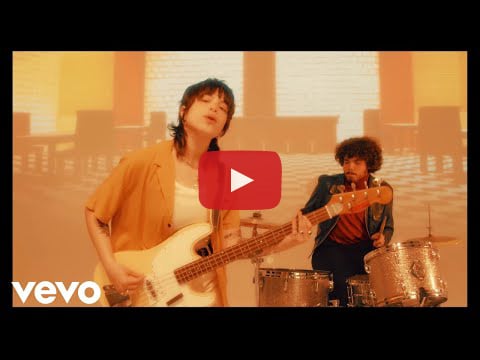 This new material marks an expansion of the duo's dynamics, which represents another musical leap forward for the band, adding new textures and further honing a sound that has been theirs since their inception. In the process of embracing this evolution, the band enlisted the help of award-winning songwriter and producer, Tarek Musa (of Spring King / Dead Nature)as well as bringing in Claudius Mittendorf (Weezer, Parquet Courts, LIFE) for mixing duties.
Speaking about the decision to collaborate with Tarek, Rose says, "working with Tarek allowed us to experiment with our writing in a way that was completely new to us, recording with him was an incredibly rewarding experience. Tarek knew and understood what we wanted to get across and how best for us to deliver that."
A string of early singles has already seen VALERAS rack up millions of streams as well as earning acclaim across a vast array of publications and early radio support from the likes of Jack Saunders at Radio 1, a long-time supporter of the band who also invited them to play the inaugural Next Wave Festival recorded at Maida Vale for his Radio 1 show.
Ahead of the pandemic, the duo also toured with the likes of Yonaka, King Nun, Drenge, Greta Van Fleet and The Wombats, as well as selling out their own headline tour across the UK, and appearing at festivals such as Reading & Leeds, All Points East, The Great Escape, Sziget (Budapest), Nova Rock (Vienna), Lolla Sweden (Stockholm), Mad Cool (Madrid) and more.
Cementing their sound whilst out on the road has led VALERAS to put forward their most ambitious and personal work to date. Rose knows only too well the anxiety and stress on her audience to fit the norm and is a proud member of the LGBTQ+ community. Her lyrics reflect her feelings of loneliness, abandonment, and consequently her desire to empower the downtrodden. These are drawn from her families struggle to become accepted in a new country after fleeing her home in Venezuela to settle in the UK when she was aged 10 years old.
VALERAS continue to go from strength-to-strength with each release, and with a vast range of critical acclaim and an array of renowned live shows behind them, "Rita" stands as a huge and refreshingly original statement of intent, and with further new music on the horizon, it's one that is not to be ignored.
"Rita" is out now – Stream HERE