Music
WOOZE share 80s-inspired, hand-animated video for new single "Huge Axeman"
New EP "The Magnificent Eleven" out now via Young Poet and available as a limited edition vinyl
On tour in September 2022
Credit: Jonny Spyrou | Hi-res HERE
Previous praise for WOOZE:
"a supernova of salacious sexiness and catwalking debonair" – DIY
"The project exists in a world of its own, matching galactic sized riffs to some divine sugar-sweet pop melodies." – CLASH
"the British/Korean duo's warped and infectious pop baffles as much as it entertains, which makes the whole thing all the more engrossing." – Loud & Quiet
"Reshaping what it means to be a band here and now" – Dork
"a deliciously addictive offering – filled to the brim with creativity and intrigue"
 – The Line Of Best Fit
"[The] quirky duo dismantling retro-sounding pop hits with their experimental approach"
 – NME
"Set the controls for the heart of the sun, this is electrifying in its coolness."
 – Guy Garvey / 6 Music
Today, London duo WOOZE have released their new EP "The Magnificent Eleven". The EP follows the release of their critically acclaimed singles "Bittersweet Timpani", "Birthday", and "Cowardly Custard". Released on Young Poet, the EP follows the band's 2021 debut release "Get Me To A Nunnery" which saw the band earn widespread plaudits for their inimitable sound and visuals.
Alongside the EP release, the band have shared a highly ambitious animated video for their new single and EP closer, "Huge Axeman". Hand-drawn frame-by-frame over a period of months by Jamie She in the mornings before work, the tongue-in-cheek video takes inspiration from 80s cartoons such as He-Man. The video sees the band battle it out against a huge axe wielding villain in space.
Speaking on the video, She says, "When we wrote the song in 2019, we imagined the 'Huge Axeman' as a similar physical beast to He-Man. It seemed obvious that the video needed to reflect this, so I said to Theo, "Theo, you know who'd be perfect for this? Jamie She, man."
I had taught myself animation in my salad days, starting with flip books and, after a painful wait for a digital camera, (in the potato days), progressing to plasticine model adventures. Who could forget 'The Incredible Help' and 'Mr Gumsley's Treasure Hunt'? I hadn't really done much in the two decades since and this was to be much more ambitious. But my He-Man fandom (or He Fandom) kept any fear at bay.
Having sent a storyboard to Theo, I got started. I drew each still on office paper, which I then scanned and coloured on the computer. I also hand painted the backgrounds as much as possible. A little sequence every day was my plan, as I knew pausing or relaxing would spell disaster. I hope the end result spells M.I.S.S.I.O.N.A.C.C.O.M.P.L.I.S.H.E.D."
WATCH / SHARE THE VIDEO FOR "HUGE AXEMAN" HERE: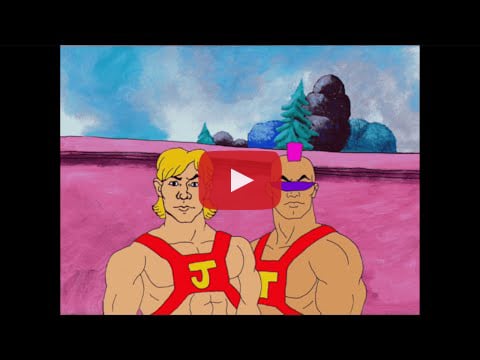 The video and subject matter perfectly reflect the band's ability to tackle real-life topics whilst still injecting a waggish sense of humour, the track focuses on self-esteem, body image, and ultimately the inner-battle that leads to self-acceptance. Musically, "Huge Axeman" is a further evolution of the band's anthemic, fuzz-heavy, avant-pop sound. Combining epiphanic and melodic vocals with robotic, baritone call and response sections, the track interweaves 80s synth lines with glam-inflected guitars to an idiosyncratically danceable effect.
WOOZE have also recently announced a string of new UK live dates for September. The dates come as part of the National Lottery's Revive Live tour and will follow a number of festival appearances this summer. Full dates are as follows:
12th Sept – Exchange (Basement), Bristol
14th Sept – Hug & Pint, Glasgow
15th Sept – Quarry, Liverpool
16th Sept – Clwb Ifor Bach, Cardiff
1st Oct- Cro Cro Fest, Croydon
Guestlist is available upon request
"The Magnificent Eleven" is out now via Young Poet – vinyl is available to pre-order HERE
British/Korean duo WOOZE (named after a phonetic translation of 'space' in Korean – ??) were formed in 2017 by Jamie She and Theo Spark at Brixton's Muddy Yard (an artist collective based in a disused builder's yard). Debut EP 'what's on your mind?' and follow up 'Get Me To A Nunnery' (produced by The Horrors' Tom Furse) firmly established WOOZE as one of the most original and exciting new acts in the UK, identifiable by their unique visuals as much as their genre-blending and enigmatic brand of avant-garde pop.
Combining 80s pop eccentricity with psychotropic instrumentation, their music is at once anthemic and absurdist. Citing an encyclopaedic range of influences from traditional Korean music through to Primus, Japanese funk, ABBA and Led Zeppelin, WOOZE have created a borderless and distinctive sound that is uniquely theirs. The band have received plaudits internationally from the likes of Spotify, Apple Music, NME, Mixmag, Dork, HERO, The Line Of Best Fit, CLASH, Dork, Loud & Quiet and DIY. They have also been consistently championed by BBC Radio 1's Jack Saunders, KEXP, Triple J and Guy Garvey, featured in their own video game, supported Metronomy on tour and sold out shows across the UK and South Korea.
The new EP "The Magnificent Eleven" sees WOOZE continue to push the envelope of their unique bizarro sound, mixing dark surrealism with exuberant wonky pop, and heavy distorted riffing. The songs were written in the band's studio called "the WC" and were all finished in a day, with the duo wanting to capture a sense of immediacy. The record captures that sense of urgency but does so in a way that conjures ebullience rather than haste, which is testament to the duo's songwriting abilities.
With the band set to play new live dates this summer, "The Magnificent Eleven" is just a taster of what WOOZE are concocting behind the scenes. For long-term fans this EP will give reason to be very excited, and for those who have yet to hear them, there is no better time to get on board.